HOME > Manufacturing and Sales > Drilling and grout pump

"NP" series is the pump with high performance and durability recommending with confidence.
During drilling work by drilling machine, circulation fluid is generally used for the purposes of the protection of drilled hole from caving, removal of cuttins, reduction of rotating resistance of drill rod, cooling and cleaning of drill bit. Circulation fluid is water-based mud mainly mixed with fresh water and bentonite and it is important to select a proper drilling pump with enough discharge to enable drilling work efficiently.
There are two types of circulation pump. The one is rotary type and the other is reciprocating type. Because of easy control of discharge volume and superior usability under high pressure condition, reciprocating type pump is popularly used. Among verious reciprocating pumps, double acting piston pump which has suction and discharge valve at both ends of piston and can discharge double volume at one stroke piston motion by pushing and pulling the piston is the most popular pump.
Product introduction
Model
Name
Guideline of Application
Borehole
Installation of
Underground
Thermal Energy
Geothermal
Exploration
Investigation of
Construction
Works
Scientific
Investigation
Development
of Hot Spring
Development
of Groundwater
Development
of Mineral
Resources
Cast-in-Place Pile
Construction
Landslide
Prevention
Work
NP-
200
 
 
 
 
 
 
NP-
400
 
 
 
 
NP-
700
 
 
NP-
1000
 
 
NP-
1400
 
 
 
Drilling and grout pump("NP" series)
Since NP pump is duplex double acting piston type, suction and discharge motions are done at two times under one reciprocating motion of the piston. Twin cylinders mechanism has a larger discharge volume and has a wide discharge volume and pressure range compared with other type pump. NP series pump is selectable from five models (NP-200, NP-400, NP-700, NP-1000 and NP-1400). Four models except NP-200 can be equipped with transmission.
NP series pump is used as drilling pump in many cases and also as grout pump injecting cement milk or distributing turbid water.
We can offer the equipment with "Only One" features upon customer's request.
Model Name
NP-200
Type
Duplex Double Acting Piston pump
Piston
Diameter
mm
89
73
60
Discharge
Volume
L/min
210
170
140
110
90
70
Max. Discharge
Pressure
MPa
2.3
2.8
3.4
4.4
5.4
6.9
No. of
Stroke
rpm
120
95
120
95
120
95
Input Shaft
Rotation Speed
rpm
High Speed
Low Speed
High Speed
Low Speed
High Speed
Low Speed
600
475
600
475
600
475
Stroke
Length
mm
75
Inlet
Diameter
mm
65
Outlet
Diameter
mm
38 or 25
Weight w/o
Power Unit
kg
550
Dimensions
(L×W×H)
With Power Unit
mm
2400×560×1245
Power Unit
kW
11
Model Name
NP-400
Type
Duplex Double Acting Piston pump
Piston
Diameter
mm
114
102
89
73
Discharge
Volume
L/min
395
335
310
260
230
195
150
130
Max. Discharge
Pressure
MPa
2.2
2.5
2.6
3.1
3.5
4.2
5.4
6.3
No. of
Stroke
rpm
100
85
100
85
100
85
100
85
Input Shaft
Rotation Speed
rpm
High Speed
Low Speed
High Speed
Low Speed
High Speed
Low Speed
High Speed
Low Speed
470
400
470
400
470
400
470
400
Stroke
Length
mm
100
Inlet
Diameter
mm
75 or 65
Outlet
Diameter
mm
50 or 38
Weight w/o
Power Unit
kg
980
Dimensions
(L×W×H)
With Power Unit
mm
2790×670×1435
Power Unit
kW
18.5
Model Name
NP-700
Type
Duplex Double Acting Piston pump
Piston
Diameter
mm
140
127
114
102
89
Discharge
Volume
L/min
730
615
600
505
480
405
375
315
280
235
Max. Discharge
Pressure
MPa
1.9
2.2
2.3
2.6
2.8
3.3
3.6
4.2
4.8
5.7
No. of
Stroke
rpm
95
80
95
80
95
80
95
80
95
80
Input Shaft
Rotation Speed
rpm
High Speed
Low Speed
High Speed
Low Speed
High Speed
Low Speed
High Speed
Low Speed
High Speed
Low Speed
470
395
470
395
470
395
470
395
470
395
Stroke
Length
mm
130
Inlet
Diameter
mm
100 or 75
Outlet
Diameter
mm
65 or 50
Weight w/o
Power Unit
kg
1600
Dimensions
(L×W×H)
With Power Unit
mm
3040×830×1575
Power Unit
kW
30
Model Name
NP-1000
Type
Duplex Double Acting Piston pump
Piston
Diameter
mm
165
152
140
127
114
Discharge
Volume
L/min
1050
865
890
730
740
610
605
500
480
395
Max. Discharge
Pressure
MPa
2.4
2.8
2.7
3.3
3.3
4.0
3.3
4.9
5.1
6.2
No. of
Stroke
rpm
85
70
85
70
85
70
85
70
85
70
Input Shaft
Rotation Speed
rpm
High Speed
Low Speed
High Speed
Low Speed
High Speed
Low Speed
High Speed
Low Speed
High Speed
Low Speed
420
345
420
345
420
345
420
345
420
345
Stroke
Length
mm
150
Inlet
Diameter
mm
125
Outlet
Diameter
mm
75 or 65
Weight w/o
Power Unit
kg
2700
Dimensions
(L×W×H)
With Power Unit
mm
3770×950×1905
Power Unit
kW
55
Model Name
NP-1400
Type
Duplex Double Acting Piston pump
Piston
Diameter
mm
190
178
165
152
140
Discharge
Volume
L/min
1430
1145
1240
990
1060
845
895
715
740
590
Max. Discharge
Pressure
MPa
2.4
2.9
2.6
3.3
3.1
3.9
3.7
4.7
4.5
5.7
No. of
Stroke
rpm
75
60
75
60
75
60
75
60
75
60
Input Shaft
Rotation Speed
rpm
High Speed
Low Speed
High Speed
Low Speed
High Speed
Low Speed
High Speed
Low Speed
High Speed
Low Speed
370
295
370
295
370
295
370
295
370
295
Stroke
Length
mm
175
Inlet Diameter
mm
150
Outlet
Diameter
mm
100 or 75
Weight w/o
Power Unit
kg
3400
Dimensions
(L×W×H)
With Power Unit
mm
4530×1080×2170
Power Unit
kW
75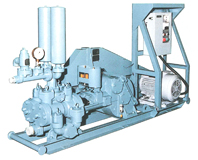 NP-200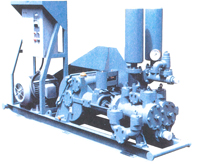 NP-400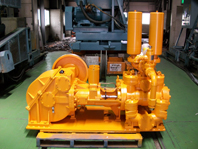 NP-700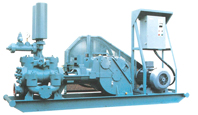 NP-1000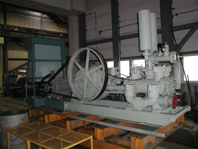 NP-1400