HOME > Manufacturing and Sales > DTH Hammer

DTH hammer with TONE's original design being popularly used and licensed in overseas
DTH hammer is a percussion system driving a piston inside hammer body with up and donw motion by compressed air and transmitting an intensive percussion energy to the bit to enable the drilling by crushing the rock. Drilling method by DTH hammer exerts high drilling performance especially for drilling hard rock and contributes for shortening work schedule. Hence, this method is widely utilized for foundation work, landslide prevention work, quarrying services, marine civil work, etc.
DTH hammer is called as Down-the-Hole hammer and is the technology applied for the method (Plan B) of rescue hole construction for mining accident in Chile, 2010.
Product introduction
Application
Series
of Model
Features
Model Name
DTH Hammer
MACH
Large Hole Diameter
Vertical hole drilling for rock
MACH-50M
MACH-80M
MACH-137M
MACH-145M
MACH-183M
HHD
Multi-DTH Hammer System
Horizontal hole drilling for rock
HHD-400
HHD-600
 
 
 
Bit for DTH hammer
SUPER
JAWS
Retractable Bit
15 Standard Models ( 2 - 4 wings)
MACH
MACH system composed of multi-DTH hammers is suitable for vertical hole drilling with large hole diameter. Features of MACH system with TONE's original technology are shown as below.
Applicable of operation with reverse circulation system
By means of stand pipe installation, MACH system is applicable to drilling for rock, highly collapsing formation and on off-shore.
Since stand pipe is filled with reverse circulation fluid, drilling by DTH hammer can be carried out with less noise and vibration.
As the actuated air passes through air pipes to the ground without flushing into the hole, drilled hole can be kept stable.
Model Name
MACH-50M
MACH-80M
MACH-137M
MACH-145M
MACH-183M
Drilling diameter(mm)
500
800
1370
1450
1830
Hammer
Model Name
AD-150M
AD-250M
Quantity
2
2
6
6
6
Air consumption
(m

3

)
0.69 MPa
15
30
90
90
120
0.98 MPa
25
50
150
150
200
Reverse diameter(mm)
150
200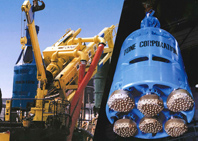 MACH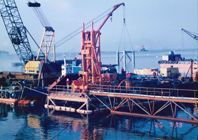 MACH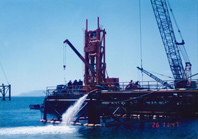 MACH
HHD
HHD is multi-DTH hammer system with a mechanism for correcting the deflection of drilled hole by adjusting air pressure for horizontal hole drilling. Feature of HHD system with TONE's original technology are shown as below.
HHD system is composed of three DTH hammers which are independently actuated and enables to correct at any drilling direction.
By monitoring the target located at hammer case center at real time, the need of correction of hole deflection can be checked.
Retractable bits are equipped as standard.
Applicable to collapsing formation by adjusting percussive energy.
Model Name
HHD-400
HHD-600
Drilling diameter
Expanded diameter(mm)
425
630
Retracted diameter(mm)
384
580
Applicable hammer
Air consumption
(1.03MPa)
20.1m

3

/min
32.7m

3

/min
Air consumption
(1.72MPa)
35.4m

3

/min
55.5m

3

/min
Applicable steel pipe
φ406.9×t7.9mm
φ609.6×t9.5mm
Overall length(mm)
1350
1700
Weight(kg)
833
2219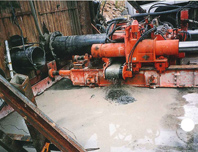 HHD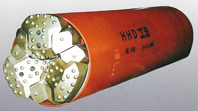 HHD:Scene of expanding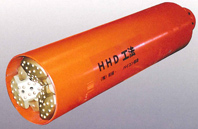 HHD:Scene of retracting
SUPER JAWS
SUPER JAWS has bit structure as to that the drilling for main area is done by bit body while only reaming is done by wing bit, unlike slide type retractable bit or eccentric type retractable bit, and is a remarkable retractable bit with transmission efficieny of percussinve energy to the maximum.
Features of SUPER JAWS with TONE's original technology are shown as below.
By pursueing the simplification of bit structure, the durability of component parts and bits is remarkably improved.
The bit with symmetrical structure distributes the bit load uniformly, resulting in high vertical accuracy of drilled hole.
Bit structure allows a smooth removal of cuttings.
The bit can be used for wide ground formation from overburden to hard rock.
Model Name
No. of Wing
Bit Diameter(mm)
Applicable casing size(mm)
At expanding
At retracting
Inner diameter
Outer diameter
T115
2
148.0
115.0
130.8
139.8
T140
2
185.0
141.0
155.2
165.2
T190
3
237.0
191.0
204.7
216.3
T280
3
341.0
282.0
301.7
318.5
T315
3
373.0
315.0
336.6
355.6
T365
4
430.0
365.0
387.4
406.4
T410
4
478.0
412.0
435.0
457.2
T455
3
530.0
455.0
482.6
508.0
T510
4
581.0
506.0
533.4
558.8
T560
4
632.0
556.0
584.2
609.6
T610
3
682.0
605.0
635.0
660.4
T660
4
733.0
656.0
685.8
711.2
T710
4
784.0
707.0
736.6
762.0
T760
4
835.0
758.0
787.4
812.8
T810
4
886.0
809.0
838.2
863.6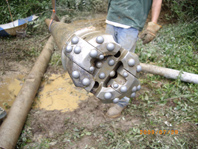 SUPER JAWS(Two wings)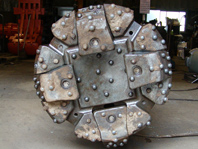 SUPER JAWS(Four wings)
SUPER JAWS(Four wings)